MathArt 2003
First Biennale of Mathematical Art
Sicevo, 1-6 June, 2003

- First Announcement -
Objective The aim of the Biennale is to provide a form and bring together scientists and artists from all over the world who are committed to creating art that is based on the
MathArt Manifesto

MathArt is a product of the creative art process, based on or aided by a scheme, algorithm or construction that has mathematical meaning, explanation and description.

MathArt artwork should have a strong rational plan or structure and a high aesthetic value at the same time. It may be based upon mathematical, physical, chemical, biological or other scientific or technological models. By the rule, it involves computers, artificial intelligence systems or other tools that are characterized by a specific logical and methodical organization.
Furthermore, there is the opportunity to display and exhibit such works in the city galleries of Nish. Some awards will be given on the assessment and decision of an international jury of experts.

Along with the Biennale, a workshop ViVe Math II will be organized at the same place. Its objective is to present the theoretical background of creating mathematical arts in invited lectures, short communications and discussions.

The official language of the Biennale will be English. Further details will be given in the Second announcement.



The site Both the Bienale and the workshop will be taking place in the building of Arts Colony Sicevo in Sicevo, a small mountain village, near Nish (Yugoslavia). Being founded in 1905, it was the first arts colony in the Balkans. The Colony provides accommodation of 13 people in its own building and about 50 people in private rooms in houses of hospitable local people. In the building of the Art Colony, there are also an art studio, conference rooms, restaurant and facilities for social activities.

Getting there Belgrade Airport is connected to most of the major European airports. Also, trains connect Belgrade and Nish with all European capital cities. The bus network in Serbia is quite extensive, so that there are bus departures from Belgrade to Nish every hour. Sicevo is situated 20 km east of Nish close to the route to Sofia. It is located on the slopes of the magnificent Sicevo Gorge. It is the place of vineyards and breathtaking views, famous for its wines and brandy production.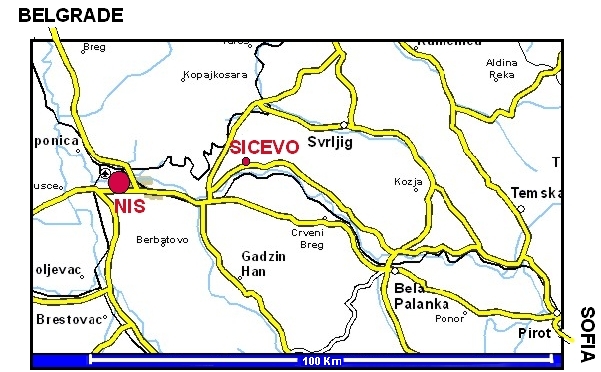 The Organizing Committee
Aleksandar Devic, Gallery of Contemporary Fine Arts, Nish
Slavik Jablan, Mathematical Institute, Serbian Academy of Science and Arts, Belgrade
Ljubisa Kocic, University of Nish, Nish
Aleksandar Kostic, Gallery of Contemporary Fine Arts, Nish
Eberhard Malkovsky, University of Nish, Nish
Igor Milovanovic, vice-rector, University of Nish, Nish
Ljiljana Radovic, University of Nish, Nish
Vesna Velickovic, University of Nish, Nish


The Bienale is supported by:
Ministry of Science, Technologies and Development of Government of Republic of Serbia
University of Nish
City Government of Nish
Gallery of Contemporary Fine Arts, Nish